---
Would you like to donate
to support my work?
---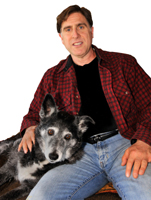 As you can see, this is a peaceful, easy-to-read site, with no advertisements. It is my hope that you find this site both interesting and useful, and that you find it enjoyable.
Because this is a non-commercial site, I would appreciate it if you could take a moment to make a donation to support my work.
To do so, just click the link below, which will take you to Paypal, where you can use their secure service to make a donation.
If, for some reason, you need more information before donating, please take a moment to read...
13 Reasons to Support the Harley Hahn Web Site
Thank you very much.
By the way, the dog you see above is Casey. She was born on December 10, 1997, and is half Border Collie and half German Shepherd/Lab. As you can tell from the photo, Casey has an especially sweet disposition.