---
About Harley Hahn
---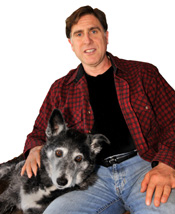 Harley Hahn is a writer, philosopher, humorist and computer expert. In all, he has written 30 books that have sold more than 2 million copies, making him the best-selling Internet author of all time.
Harley Hahn's Internet Yellow Pages, published by McGraw-Hill annually for 10 years, was the first Internet book in history to sell more than 1 million copies. This book, along with two other of Harley's Internet books — Harley Hahn's Internet Insecurity and Harley Hahn's Internet Advisor — were nominated for a Pulitzer Prize.
Hahn is also the author of a variety of Unix- and Linux-related book and textbooks, including the highly regarded Harley Hahn's Guide to Unix and Linux.
Hahn has written numerous articles, essays and stories on a wide variety of topics, including romance, philosophy, economics, culture, medicine and money. Much of his writing is available on this Web site including:
• The Island Syndrome / Young Girls and Phones
• Understanding Abstract Art
• Understanding Money
• Interesting People
• Harley Hahn's World of Reading
• Stories by Harley Hahn
One of Hahn's most elaborate and valued Web sites is devoted to Usenet, the worldwide system of discussion- and file-sharing groups:
Aside from being a writer, Hahn also an accomplished abstract artist, as well as the creator of Harley Hahn's Art Center:
• Paintings by Harley Hahn
• Harley Hahn's Art Center
Finally, Harley Hahn is also a skillful musician. He has been playing the piano (mostly by ear) since he was six years old:
• Harley Hahn playing and singing "Great Balls of Fire"
Hahn has a degree in Mathematics and Computer Science from the University of Waterloo, in Canada, and a graduate degree in Computer Science from the University of California at San Diego. He also studied medicine at the University of Toronto Medical School. Hahn has been the recipient of a number of honors and awards, including a prestigious National Research Council (Canada) post-graduate scholarship.
Hahn's work — including a complete set of all his books — is archived by the Special Collections Department of the library at the University of California at Santa Barbara.
Note: The dog in the photograph at the top of the page is Casey. Casey was born on December 10, 1997. She is half Border Collie and half German Shepherd/Lab. As you can tell from the photo, Casey has an especially sweet disposition.
© All contents Copyright 2023, Harley Hahn
Full trademark and copyright information