---
Interesting People
MARTHA STEWART
---

Interesting People Home Page


People in Harley Hahn's Internet Yellow Pages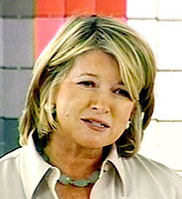 Martha Stewart
(1941-)
In her time, Martha Stewart (1941-) was the epitome of the American Dream, an entrepreneur who turned a flair for gracious living and an insatiable appetite for perfection into a highly successful career as a lifestyle expert: teaching the arts of cooking, gardening, crafts and home decoration, to millions of American women. Stewart, however, was also the epitome of the American Dream gone bad, demonstrating the immense pride and separation from reality that inevitably comes before a long, hard fall.
Martha Stewart, born Martha Kostyra, was the second of six children in a Polish-American family. She grew up in a working class neighborhood in the small town of Nutley, New Jersey. Her father was strict, demanding, temperamental, and disappointed with life; her mother (also named Martha) was a cold, unhappy, resentful housewife. This volatile combination of parental forces, along with the constant threat of poverty, imbued Stewart with a permanent yearning for power and comfort, desires that would manifest themselves as an endless devotion to perfection and a chronic, insatiable ambition for material success.
In an attempt to fulfill these needs, Stewart consciously developed herself in three ways. First, she learned to how to achieve her goals with the single-mindedness of a charging rhinoceros. Second, she became enormously skillful in the domestic arts, developing powers and abilities far beyond those of mortal men (and women). Finally, she turned herself into the public authority on Gracious Living, Along the way, Stewart reinvented her childhood for public consumption, fantasizing about the happy, loving family life she never had. In later years, Stewart would do the same thing with her adult life, portraying her husband, daughter Alexis, and herself as living an ever-so-happy and perfect domestic existence, an image that was far from the truth. In 1987, for example, her husband of 26 years, Andy Stewart, moved out to live with Martha's former assistant. (The actual divorce came three years later.)
Stewart reinvented her childhood for public consumption, fantasizing about the happy, loving family life she never had. In later years, she would do the same thing with her adult life
However, as much as her public image and private demons may have conflicted with reality, there is no gainsaying that Stewart was a highly innovative businesswoman, boldly going where no man (or woman) had gone before. In 1982, she burst into the American consciousness with her first book "Martha Stewart Entertaining" (which was published by her husband's company). In 1987, she signed a lucrative deal with the giant retailer Kmart to develop an exclusive line of low-cost, but tasteful, merchandise. In 1991, she published her first magazine, "Martha Stewart Living", and in 1993, debuted her first TV show, also called "Martha Stewart Living". In 1997, Stewart established her own company, Martha Stewart Omnimedia.
Within a short time, she expanded her eponymous and seemingly ubiquitous business far beyond the traditional boundaries of domestic merchandising. The Martha Stewart brand name was attached, not only to books, magazines and TV shows, but to radio spots, a newspaper column, a large mail-order/Internet business, as well as the thriving Kmart product lines. In 1999, Stewart took her company public making her, on paper, a freshly minted, yet tasteful, billionaire, the reigning queen of domestic consumption. However, it was not to last.
On June 4, 2003, Stewart and her stock broker, Peter Bacanovic, were indicted on federal securities charges. (The indictment stemmed from lies that Stewart had told during an investigation of insider trading.) On the same day, Stewart resigned as Chairman and CEO of Martha Stewart Omnimedia. On March 5, 2004, Stewart and Bacanovic were convicted of several charges: conspiracy, making false statements, and obstruction of justice. Stewart's personal empire began to crumble, forcing her to resign as an officer and board member of her own company.
On July 16, 2004, Stewart was sentenced to 5 months in prison, followed by 5 months home arrest and 2 years probation (to be served concurrently). She was also fined $30,000. Bacanovic received the same sentence, but with a smaller fine. Barely four months later, on October 8, 2004, an unrepentant Stewart — newly rechristened as U.S. federal prisoner #55170054 — surrendered to officials at Alderson Federal Prison Camp in West Virginia to begin serving her sentence.
So what does the story of Martha Stewart have to teach us? With respect to homemaking, Stewart inspired millions of women to cultivate a desire for quality and to pay attention to details. In a real sense, the time-consuming, but satisfying, activities she offered her followers were a marvelous antidote to the plague of instant living that infects our modern culture. Stewart was, without a doubt, not only a domestic goddess, but a very smart, talented, and competent businesswoman. However, she was also a disorganized, short-tempered, pathologically demanding tyrant and, when the legal and business dust had settled, it was clear that Stewart was nothing less than a tragic victim of her own hubris, demonstrating fatal flaws that would make even Sophocles sit up and take notice.
---
Web:
http://www.cnn.com/cnn/programs/people/shows/stewart/profile.html
http://www.marthastewart.com/
http://www.rotten.com/library/bio/business/martha-stewart/
http://www.washingtonpost.com/wp-dyn/business/specials/
marthastewart/
http://www.who2.com/marthastewart.html

Usenet:
Google Newsreader alt.tv.martha-stewart


Interesting People Home Page


People in Harley Hahn's Internet Yellow Pages
© All contents Copyright 2023, Harley Hahn
Full trademark and copyright information