---
Interesting People
MARTIN LUTHER KING JR.
---

Interesting People Home Page


People in Harley Hahn's Internet Yellow Pages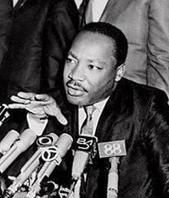 Martin Luther King Jr. (1929-1968)
Although the American Civil War (1861-1865) legally ended black slavery in America, the prejudices and economic forces left the country with an enduring legacy of discrimination against blacks. As late as the 1950s, the situation of African-Americans was still brutally oppressive, particularly in the 11 southern states that had formed the Confederacy: Alabama, Georgia, Virginia, Mississippi, Louisiana, South Carolina, Texas, Florida, Arkansas, Tennessee and North Carolina.
In the 1950s, a massive national effort, the Civil Rights Movement, arose to secure full civil rights for all blacks: specifically, the right to vote, and the elimination of segregation in public facilities, public schools, housing, and public accommodations. Throughout this struggle, one man, Martin Luther King Jr. (1929-1968), emerged as the foremost religious and civil rights leader in the history of the United States.
King was born in Atlanta, Georgia, the son and grandson of clergymen. King grew up in the church, so it was natural that he would study for the ministry as well. He graduated from Morehouse College (Atlanta) with a B.A., from Crozer Theological Seminary (Pennsylvania) with a B.D. and, later (in 1965), from Boston University with a Ph.D.
In 1955, while King was pastor at the Dexter Avenue Baptist Church in Montgomery, Alabama, he achieved national prominence by leading a 13-month boycott against the segregated Montgomery bus system (Dec 1955-Dec 1956). In 1957, King, along with other black activists, founded the Southern Christian Leadership Conference to build on the success of the boycott. In the years to follow, King became a well-known civil rights leader and developed into one of the greatest orators of the 20th century.
Throughout his years of speaking, King never budged from the idea that the Civil Rights Movement should be based on nonviolent protest. In time, King's tactics of civil disobedience would become a dominant social force. For example, he might lead a sit-in at a public place, such as a segregated restaurant, in order to provoke arrest peacefully and draw attention to his cause.
On April 16, 1963, King was imprisoned in Birmingham, Alabama, after a nonviolent protest. Eight other clergymen published a statement in which they criticized King's tactics, calling them "unwise and untimely". While he was in jail, King came across the statement in a newspaper and decided to answer their charges in writing. He composed an essay, "Letter from a Birmingham Jail", in which he argued that human rights must take precedence over unjust laws. He defended the impatience of civil rights protestors, as well as their use of nonviolent civil disobedience in order to force an intransigent community to acknowledge and to respond to serious problems. "Nonviolent direct action seeks to create such a crisis and foster such a tension, that a community which has constantly refused to negotiate is forced to confront the issue."
King's forte, however, was not so much as a philosopher but as an orator, a man of the people who had a remarkable ability to inspire change. His most stirring speech was given on August 28, 1963, at a rally in Washington D.C. Standing on the steps of the Lincoln Memorial, King addressed a crowd of over a quarter of a million people and spoke of his vision for America. He began by mentioning the Emancipation Proclamation (signed by Lincoln himself) and then declared that "one hundred years later, the Negro is still languishing in the corners of American society and finds himself an exile in his own land." However, he warned that, no matter how oppressed people might feel, "we must forever conduct our struggle on the high plane of dignity and discipline. We must not allow our creative protest to degenerate into physical violence."
He then uttered the most famous words he was to ever speak: "I have a dream that one day this nation will rise up and live out the true meaning of its creed: 'We hold these truths to be self-evident: that all men are created equal.'" A few months later, Time Magazine declared King to be "Man of the Year" and, a year later, at the age of 35, he was awarded the Nobel Peace Prize, the youngest person ever to receive this honor.
In his Nobel speech, King expressed his optimism that human beings would, one step at a time, work to improve their lot: "Every crisis has both its dangers and its opportunities. It can spell either salvation or doom."
King threw himself into his work with a fearless dedication, visiting and speaking wherever his help was needed and lobbying tirelessly for change. Over the next few years, King's work began to bear fruit as the U.S. Congress passed landmark legislation addressing long-standing civil inequalities: the Civil Rights Act (1964), the Voting Rights Act (1965), and the Fair Housing Act (1968).
On April 4, 1968, however, King's life was cut short. He went to Memphis, Tennessee, in order to mediate a garbage workers' strike. As King was standing on the balcony of the Lorraine Motel (next to Jesse Jackson, actually), he was shot and killed by a small-time criminal, James Earl Ray. The death of King was a major event, and people around the world mourned the loss.
His memory was cherished and, in 1985, the Martin Luther King Papers Project was established at Stanford University, in order to publish a definitive edition of King's written material and speeches. Unexpectedly, in the course of their work, the Project's researchers found a great deal of plagiarism in King's writing, including his Ph.D. dissertation. As they put it, "King's plagiarism was a general pattern evident in nearly all of his academic writings... The pattern is also noticeable in his speeches and sermons throughout his career... Many of King's published works were heavily edited by others and sometimes ghostwritten."
This cast a shadow of doubt on King that has yet to be fully reconciled. Certainly, we know that he wrote "Letter from a Birmingham Jail" by himself (as he was incarcerated at the time). However, because he plagiarized so freely, the question arose, would we ever know what ideas and beliefs were truly his?
Still, Martin Luther King was — without doubt — a great man. Although he may not have been a great philosopher, he was, perhaps, someone more important: a preacher and master strategist who was an inspiration to millions of oppressed people. As such, King was able to catalyze powerful social forces and change the world permanently. In doing so, he cemented a link between the American civil rights movement and organized religion that has yet to be broken.
In honor of King and his lasting legacy, the United States celebrates Martin Luther King Day every year on the third Monday in January, the month of King's birth.
Web:
http://seattletimes.nwsource.com/mlk/
http://www.lucidcafe.com/library/96jan/king.html
http://www.thekingcenter.org/DrMLKingJr/
http://www.nobel.se/peace/laureates/1964/
http://mlk-kpp01.stanford.edu/


Interesting People Home Page


People in Harley Hahn's Internet Yellow Pages
© All contents Copyright 2023, Harley Hahn
Full trademark and copyright information