---
Interesting People
RALPH NADER
---

Interesting People Home Page


People in Harley Hahn's Internet Yellow Pages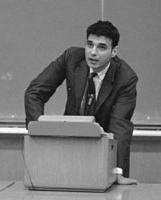 Ralph Nader (1934-)
It is difficult to name anyone who, over the last half century, has made more important contributions to the United States legal, political and business systems than Ralph Nader. Indeed, many of the changes that Nader has effected have become so integrated into mainstream culture that his accomplishments are now taken for granted.
For example, did you know that it is Ralph Nader who was responsible for the creation of OSHA (the Occupational Safety and Health Administration), the EPA (Environmental Protection Agency), and the Consumer Product Safety Administration? And did you know that Nader was instrumental in the adoption of the Safe Drinking Water Act, the Freedom of Information Act, the Wholesome Meat Act, and the National Traffic and Motor Vehicle Safety Act? (Indeed, it was Ralph Nader who maneuvered the auto industry into making airbags available on American cars.) However, more than anything else, Nader is responsible for a wholesale shift in contemporary attitudes toward consumer rights, public safety, humane business practices, and open government.
Ralph Nader (1934-) was born in Winsted, Connecticut, the son of Lebanese parents. As a young man, Nader excelled in school, graduating magna cum laude from Princeton University (1955) and with distinction from Harvard Law School (1958). In 1963, at the age of 29, Nader hitchhiked to Washington, DC, where he found a job working for Assistant Secretary of Labor Daniel Moynihan. Over the next few years, Nader spent time researching for Moynihan, writing for The Christian Science Monitor and The Nation, and advising a Senate subcommittee on automobile safety.
In 1965, when he was 31 years old, Nader published a seminal book, "Unsafe at Any Speed: The Designed-in Dangers of the American Automobile". The book was a report on the practices of the American auto industry, particularly General Motors. Nader showed that the auto industry consistently sacrificed safety for the sake of profits, even to the point of refusing to implement important features such as seat belts. GM retaliated by hiring private investigators to pry into Nader's life, even going so far as to try to trap him in a compromising position. To GM's surprise, Nader proved to be the most innocent, clean-living person in the entire District of Columbia. The detectives failed to dig up any dirt and when Nader found out about it, he successfully sued GM for invasion of privacy. On March 22, 1966, the President of GM, James Roche, was forced to appear before a Senate subcommittee and publicly apologize to Nader.
Within a year, Nader's book had led to a series of new national automobile safety laws. At the same time, Nader was using his money from the GM settlement to fund even more investigations. In the summer of 1969, Nader hired a large number of young activists who came to D.C. to work on his new projects. Their work was prodigious and highly effective, and they soon came to be called "Nader's Raiders" (a name that was coined by Washington Post reporter William Greider). By 1972, Nader and his co-workers had published 17 books, documenting serious problems in many areas of government and business. There were a large number of investigations related to the public interest, resulting in significant improvements and changes.
Why was Ralph Nader so effective? Aside from his obvious intelligence and persistence, Nader had a genius for organization. His method was to inspire people to take an interest in public affairs, help them set up viable organizations to work towards their goals, and then disengage and let the organizations develop on their own.
Over the years, Nader has inspired the creation of dozens of organizations devoted to investigating many different areas of the law, government, the environment, and public affairs. Perhaps the most famous such organization is Public Citizen, founded by Nader in 1971 to serve as an umbrella organization for a miscellany of projects. (Nader resigned as director in 1980.) Another well-known group of organizations are the Nader-inspired Public Interest Research Groups (PIRGs), college organizations for idealistic students who want to work on projects in the public interest. (When I was an undergraduate at the University of Waterloo in Canada, back in the early 1970s, I went to see Nader talk. What I heard inspired me, and I went on to start the very first PIRG in Canada.)
In recent years, Ralph Nader has enlarged his crusade into the mainstream political arena by running for President. In 1996 and 2000, he ran as a member of the Green Party, receiving (in 2000) almost 3 percent of the popular vote. In 2004, he ran again, this time as an independent candidate. As a presidential candidate, Nader's presents a platform of enlightened populism. His feeling that there is "too much power and wealth in too few hands" has led him to campaign for workers' rights, affordable housing, environmental justice, universal healthcare, campaign finance reform, free education through college, and more controls on corporate power. He is also in favor of shifting more of the tax burden onto corporations, relieving the strain on middle- and lower-class taxpayers.
On a larger scale, Nader warns of the growing "imperialism" of huge, multinational corporations: an evolution that, he feels, has led to a grand convergence of corporate and government power. As such, Nader opposes what he calls "autocratic trade treaties", such as NAFTA (North American Free Trade Agreement) and GATT (General Agreement on Tariffs and Trade).
There are two sides to Ralph Nader: the dedicated, consumer activist; and the unbending, often intolerant fanatic.
People who study Nader say there are two sides to the man. First, there is the dedicated, consumer activist who has — against all odds and in the face of continued opposition — managed to inspire and galvanize a large number of people into taking practical, effective action. However, there is also Nader the extremist: an unbending, often intolerant fanatic. For example, Nader not only labors tirelessly for his causes, he demands that others do the same, particularly those who work for him (who are typically paid very little for their efforts).
Over the years, Nader's antipathy towards big business and big government has also served to harden him, turning him into a cynic who refuses to compromise or even consider the arguments of those who disagree with him. Moreover, in the name of the public interest, he has aligned himself with the trial lawyer lobby, often working against legal reforms in a way that is questionable for one who describes his full-time job as "public citizen".
Still, this is only to be expected. The appetite grows upon what it feeds and, for decades, Nader has been a professional iconoclast. As he puts it, "You've got to keep the pressure on, even if you lose. The essence of the citizen's movement is persistence." It is common for such men to become fossilized in their beliefs as they grow older. Nevertheless, Nader is a great man: a highly effective and passionate idealist who has spent a lifetime asking the question, "What can I do for my country?", rather than "What can my country do for me?"
---
Web:

http://en.wikipedia.org/wiki/Ralph_Nader
http://www.issues2000.org/ralph_nader.htm
http://www.nader.org/biography.html
http://www.realchange.org/nader.htm


Interesting People Home Page


People in Harley Hahn's Internet Yellow Pages
© All contents Copyright 2023, Harley Hahn
Full trademark and copyright information