---
Little Weedly's Home Page
---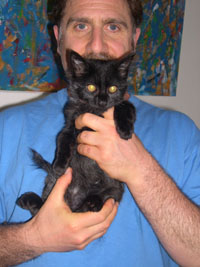 Hi. My name is Little Weedly. I am a cat, and I was born on July 12, 2004. I was adopted by Harley Hahn when I was two and a half months old.
As you can see, I am as cute as can be, and (just between you and me) I am as smart as I am cute. Moreover, I am excellent company and always in a good mood. All in all, just the sort of companion you would want around your house.
Best of all, I have a lot of good ideas, and I help Harley write his books, work on his Web site and put out his newsletter.
When Harley is called away from the house, he puts me in charge. That way, he knows things are being run properly, and that Casey the dog won't cause any trouble. (Between us, Casey is clever for a dog but, as you would expect, she is not nearly as smart as a cat.)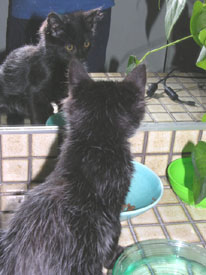 When Harley adopted me, he had a contest to choose a name for me. In all, 211 people entered the contest. The winning name was "Little Weedly". Let me explain why.
From 1927 to 1958, the American writer Walter R. Brooks published a series of children's books about the adventures of a very talented, talking pig named Freddy. In all, Mr. Brooks wrote 26 Freddy the Pig books and, in doing so, became the founder of modern American children's literature.
The 8th book — the best one — was named Freddy's Cousin Weedly. Weedly, of course, being Freddy's cousin, was also a pig. However, he was intelligent, friendly, cute, and an all-round good guy to have around. So, you can see why, even though I am a cat, it made sense to name me after Weedly.
As I mentioned, Mr. Brooks originally wrote the Freddy the Pig books for children. However, they are so good that many adults enjoy reading them. In fact, there is a club called The Friends of Freddy that Harley belongs to.
Interesting Places to Visit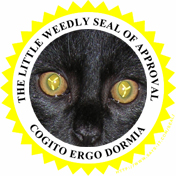 When you have some time, here are some interesting places to visit. These sites all have my personal seal of approval (which you can see to the right).
First, let me show you some of my favorite cat-related Web sites:
1 2 3 4 5 ... All about cats
1 2 3 4 5 ... Pictures of cats
1 2 3 4 5 ... Sayings about cats
Next, here are some of Harley's Web sites, which I am sure you will enjoy:
Harley's main Web site
Harley Hahn's Internet Yellow Pages
Harley Hahn's Internet Yellow Pages: Animals and Pets
Finally, here is some information about Freddy the Pig. I bet you would enjoy reading the books, which you can probably find in your library.
About Freddy the Pig
The Friends of Freddy
Remember, of all the Freddy the Pig books, the very best one is Freddy's Cousin Weedly.
© All contents Copyright 2023, Harley Hahn
Full trademark and copyright information