Once you have selected the files to be uploaded, click on the Open button. You will now specify a few choices and specifications needed before the posting process begins. You will see a window like the one below. In our example, you can see on the title bar that we have just added 55 files to the queue. (File #56 is the NZB file that has yet to be created.)
This window has four tabs. We'll start with Subject.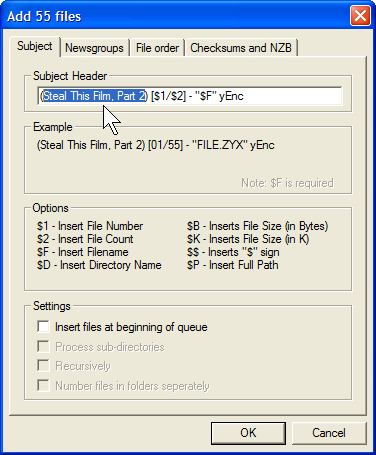 The Subject tab contains information that will be used the create the Subject lines for the files that are about to be posted. Specifically, you need to specify the "Subject Header". The first time you use the program, you will see a default value like the one shown below.

As you can see, most of the Subject Header is filled in for you automatically. All you need do is replace the four question marks within the parenthesis, by typing a descriptive name. In our example (see the large screenshot above), I typed Steal This Film, Part 2. Notice that I left the parentheses intact. This is important.
Important: Do not change the rest of the Subject Header unless you know what you are doing and have a good reason to override the default.
Once you have specified the Subject Header, click on the Newsgroups tab. You will see a window like the one below. At this point, you need to specify the Usenet newsgroup to which you want to post your files.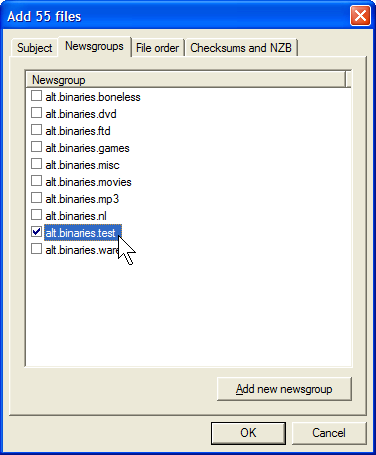 When you send a Usenet article to more than one newsgroup, it is called CROSS POSTING. Cross posting is occasionally used with Usenet discussions, when a particular article may be of interest to more than more than one group. However, cross posting should never be used when sharing files.
As a general rule, you should never upload the same files to more than one newsgroup. In our example, I have chosen the group alt.binaries.test, the newsgroup that is used specifically for testing and practicing. The first time you share a file, I suggest that you send it to this group, just to see how it works.
Normally, when you are not practicing, you would pick one of the other groups in the list. If you are not sure which group to use, you can post to alt.binaries.boneless or alt.binaries.misc. As we discussed earlier, boneless is a high-traffic newsgroup used for general file sharing. It is, by far, the most widely used Usenet file sharing group. The misc group is similar, but has much less traffic.
There are a great many different file sharing groups, hundreds in fact. To help you choose the right group, take a look at the table below. I have included the groups in the list above, as well as several others that are particularly popular. If you want to post to a group that is not in the default list, you can add it for yourself. (Notice the Add new newsgroup button in the screenshot above.)
Notice that I have not included alt.binaries.ftd and alt.binaries.nl. These two groups are of interest only to users from the Netherlands. The reason they are included in the default list is that Camelsystem Powerpost is maintained by Dutch programmers.
| Newsgroup | Used to share... |
| --- | --- |
| alt.binaries.boneless | Everything and anything |
| alt.binaries.dvd | DVDs, videos |
| alt.binaries.erotica | Erotica, pornography |
| alt.binaries.games | Computer/console video games |
| alt.binaries.hdtv | HDTV: TV shows |
| alt.binaries.hdtv.x264 | HDTV using H.264 compression: TV shows |
| alt.binaries.misc | General miscellany |
| alt.binaries.movies | Movies, videos |
| alt.binaries.mp3 | Music/sound files |
| alt.binaries.test | Tests and practicing |
| alt.binaries.tv | TV shows |
| alt.binaries.tvseries | TV series |
| alt.binaries.warez | Software, programs, tools |
Once you have specified the Subject Header, click on the File Order tab. You will see a window like the one below. This window allows you to modify the exact order in which the files will be posted to your Usenet server.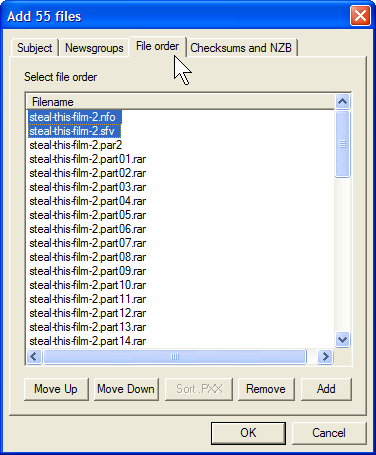 For two reasons, I recommend you move the NFO file and SFV file to the top of the list, which will cause them to be uploaded before the data files.
First, even before all the files are fully uploaded (which can take a long time), people will be able to download your NFO file and see what you are sharing. If they like it, they can use your NZB file to initiate a download.
Second, once people have your SFV file, they can use it to verify that correctness of the data files as they arrive, one at a time. (Downloading large files is a slow process.)
Note: As we will see in a moment, when the NZB file is generated, it will be inserted automatically above all the other files.
To continue, click on the checksums and NZB tab. This will display a window that allows you to specify whether or not you want the program to create SFV, PAR2 or NZB files.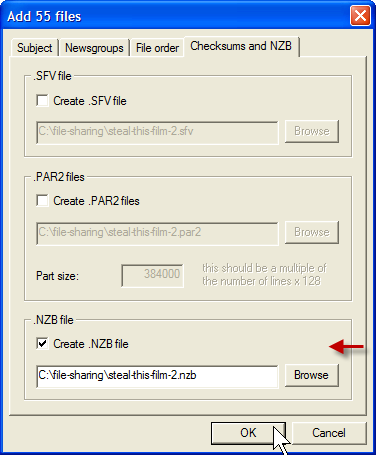 In our case, we already have the SFV and PAR2 files. However, you will always need the program to create an NZB file for you, so make sure that this box is checked (see the red arrow).
Our preparation is now complete. Click on the OK button to return to the main window. Then pull down the Posting menu, and select Start Posting. Notice that the NZB file has been created for us: it is at the top of the list.