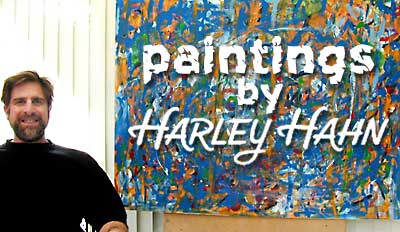 Most of my time, I spend writing, but once in a while, when I have a strong need for a break, I'll get a canvas and change my whole way of thinking. I tend to paint what I like to look at, so much of the work you will see here is abstract.
I believe that good paintings are like poems or stories or books: that it is possible to invoke feelings in another person that are similar to the feelings you felt when you created the work. As such, I find that my finished paintings capture emotions and thoughts, and hold them frozen in time.
The images below are previews.
Click on any image to see the entire painting.
(Cleveland School Mural)

(A Higgs Boson at Sunset)

(Art Factory mural)
When I was young lad, most of my creative time was spent playing music and writing. To be sure, when I was a student, I did paint and draw a bit, but I never produced much worth looking at.
Years later, in my first term of medical school, I spent every afternoon dissecting in the anatomy lab. I sometimes stayed afterwards to make drawings of the dissections, just to train myself as an artist.
Alas, that activity didn't last long. Within a few weeks, the fears and demands of medical school had manifested themselves with a vengeance, and there was simply no time to even think about drawing. Like everyone else in my class, I was completely overwhelmed with work, and I began to spend every spare moment studying and memorizing.
It wasn't until a few years later, when I was back in California writing books, that I once again thought about painting and drawing. Even so, it happened by accident.
I had a friend who was an artist of sorts. One day, he and I were talking, and I mentioned that I would like to have a painting to hang in my living room. In those days, I was an impoverished writer, and there was no way I could actually afford to buy such a painting. My friend, however, said that he would paint one for me for free, as long as I bought the materials.
So I bought some wood and canvas, and my friend and I hammered together a large frame. Then, with infinite care, we stretched and stapled the canvas into place. The procedure took all day and, by the time we finished, it was too late to paint. My friend promised to come back the next day and start work on the painting.
Well, he never did come back. I waited and waited and, finally, as I stood there, looking at the paint and the brushes and the blank canvas, it occurred to me that I could do the painting myself. "Why not?" I asked myself.
Of course, I had no idea what I was doing, but that has never stopped me.


Jump to top of page
---
---
© All contents Copyright 2023, Harley Hahn
Full trademark and copyright information