---
An Artist From Iran
---
Many of my readers are talented and, from time to time, they send me samples of their work. Below, you will see a painting done by one of my readers in Iran.
(I have been fortunate to have some of my books translated into Farsi, the national language of Iran, so many people there know my work.)
The artist is Ali Baharestany, whose nickname is Danyal. As you can see, the painting is a portrait of me. Danyal drew the picture from a photograph. We have never met in person.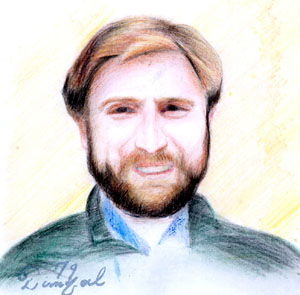 "Portrait of Harley Hahn" [2003] by Ali Danyal Baharestany.
Display a larger picture of this painting.
(To see a larger version of the painting, just click on the picture itself or on the link above.)
Danyal was born on October 21, 1981 in Tehran, the largest city in Iran and the capital of the country. Today, he lives in Rasht, a smaller city in northwest Iran near the Caspian Sea (see below). Rasht is the capital city of the province of Gilan, and is important for its role in international trade and as a silk producing center. (The Caspian Sea, by the way, is the largest lake in the world, containing well over 40 percent of the world's lake water.)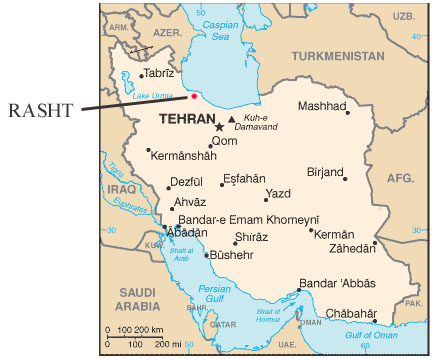 Danyal's last name, Baharestany, illustrates an interesting aspect of Farsi: many of the words are composed of a prefix or suffix joined to a base word. In this case, "bahar" means spring; "stan" indicates a place name; and "y" is a suffix that means "of". Thus, Baharestany means "a person who lives in a place where it is always springtime".
As I write this, Danyal is 23 years old. He lives with his parents, his younger sister Hasiba, and his brother Pooria. (In Iran, young men usually don't marry until their late 20s.) Danyal's father, Yoosef (Joseph) is a clerk, who loves flowers and gardening; his hobby is tending to his small garden. Danyal's mother, Mehry, is a teacher of Farsi literature, who spends her spare time reading.
Danyal is a highly educated software engineer and computer teacher, who earns money by programming for local companies. He is in his last year at Azad University of East Gilan, an Islamic school in Lahijan, not far from Rasht. In addition, Danyal is studying for the MCSD Certification (Microsoft Certified Solution Developer). When he graduates from the university, Danyal plans to go to another country to continue his education.
I get a lot of mail from Iran, and I know that there are many smart, educated people there who want peace with the rest of the world, and who want to use the Internet to participate in the global community.
Danyal feels the same way. Take a look at an except from a letter he wrote me. (Note that he is writing in his second language.)
Harley:
It was interesting for me that you know Iran.
I don't know how much you know about our history, but it is really interesting for anyone who studies it. We have an old 2,500 year civilization and have had many scientists, philosophers, poets, and so on in our country.
There are so many interesting things in Iran, that is worth to visit: like a great bathhouse that supplied its warmth from only a candle, and so other surprising things designed by Iranians in many years ago and event when the U.S. was not yet discovered.
Our country is in a good situation now and I think people in the world don't know many things about us. Most of them don't even know the difference between Iran and Middle East. Some of them think that we are terrorists. I want you as a wise man to know some things about our country.
I and anyone I know have never touched any guns in our life and never seen any killed person, except in the war, on TV or in pictures. It's the greatest guilt in our religion and law to harm someone.
-- Danyal
If you have a moment, take a look at the following Web sites where you will find information about Rasht, including its history, as well as some pictures. As you will see, Rasht is a beautiful city.
The history of Rasht and some pictures
If you enjoy reading about cities around the world — or if you are planning a trip — you'll find a lot more material in the online version of my book Harley Hahn's Internet Yellow Pages. Just click on the link below:
Below is a list of the cities I have written about in this section of the book. Along with my commentary, you'll find links to Internet resources with lots of useful and interesting information.
World Cultures: Cities
Amsterdam
Athens
Beijing
Cairo
Jerusalem
Las Vegas
London
New York
Paris
Rio de Janeiro
Rome
San Francisco
Tokyo
Vienna
Washington, D.C.
---
---
© All contents Copyright 2023, Harley Hahn
Full trademark and copyright information