---
The Art Factory Mural
---
In the summer of 2004, I was asked to create a mural and an exhibit as part of a celebration. The event marked the start of construction of the Bell Arts Factory, the premier art center of Ventura, California.
The genesis of the Bell Arts Factory lay in the fertile imagination of Josh Addison. For almost 70 years, Ventura had been the home of the Bell Mattress Company, which eventually came to be owned by Addison's late grandfather, Robert Addison. When the elder Addison died, the factory ownership moved to a family trust.
By May 2004, economic conditions had forced the younger Addison to close the business, which left him with a problem: What should he do with the large, empty building? Following in his grandfather's footsteps of giving back to the community, Addison — who has been called "Ventura's most civic-minded developer" — decided to turn the building into a community arts center. Today, the Bell Arts Center is a regional treasure with more than 25 artist studios, a gallery, a community room, and many regular art classes, particularly for children.
In the summer of 2004, Addison asked me to exhibit some of my paintings in conjunction with a community "Art Walk". Although the Bell Arts Center was still in the planning stage, it would be their first time they would participate in the local Ventura art community. To mark the occasion, Addison arranged for me to paint a large abstract mural, inside, on one of the old factory walls.
What you see below is the finished painting, as well as photos documenting the various stages in its creation. The mural itself is 10 feet high by 16 feet wide (about 3 meters by 5 meters). I chose these dimensions to approximate, as closely as possible, the "golden ratio" of 1 to 1.618, which is particularly pleasing to the eye. I acquired most of the paint from the Hazardous Waste Collection Center at U.C. Santa Barbara, so what you see was created almost entirely with recycled materials.
The mural was completed in August 2004. Below, you can see me standing in front of the completed painting.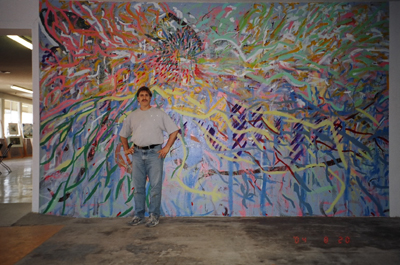 "Art Factory" [2004] by Harley Hahn.
Display a larger picture of this painting.
Creating the Mural
The following seven photos show the various steps involved in painting the mural. Click on any image to enlarge it and read an explanation of how the mural was creates. Start with the first image, and watch the mural take shape, one step at a time.
(Click on any image to enlarge the photo.)
The Finished Painting
Here are four photos that show the finished painting.
(Click on any image to enlarge the photo.)

Jump to top of page
---
---
Credits:
• The photograph of Harley standing beside the ladder (at the top of this page) was taken by Tai Kerbs, based in Santa Barbara, California.
• All other photos were taken by Harley Hahn.
© All contents Copyright 2023, Harley Hahn
Full trademark and copyright information