Back in 1961, when Maria was two years old, her Mormor (Swedish for maternal grandmother) visited Maria and gave her a very special teddy bear. Soon after, Maria's mother made the bear a soft red outfit — shirt, pants, and a cute little hat — so Maria could dress him to keep him warm.
Once Maria learned how to talk, she named her bear Gamle Nalle, which means "Old Bear" in Swedish. (A real bear is a bjorn; a teddy bear is a nalle.) Maria kept Gamle Nalle her entire life, taking him with her through her many moves.
From the moment Maria met Gamle Nalle, he was her first true love: someone she could turn to for comfort and to express affection. Indeed, during her childhood, Maria kissed Gamle Nalle so many times that, eventually, the fur on his right cheek became worn down and smooth. However, as she got older, Maria spent less and less time with her bear and, eventually, she stored him in a shoebox for safekeeping.
In early January 2015, when Maria was 55 years old, she came across the shoebox while cleaning out her storage closet. Poor little Gamle Nalle: his fur was ragged, his head was held on by only a few threads, and his legs had started to fall apart. And, of course, the fur on his right cheek had, long ago, been worn away from so much kissing.
To repair her dear Old Bear, Maria took him to the home of Mary Barrette, an expert doll restorer in Nipomo, California. Gamle Nalle stayed there for a month and, when Maria picked him up on March 7, she was thrilled. Gamle Nalle had been lovingly restored: he looked so good that it was hard to believe he was actually 53 years old. Maria took Gamle Nalle home and dressed him in his old red outfit, which still fit perfectly.
By now, Gamle Nalle was Maria's oldest companion — they had been friends well over half a century — and they were both as happy as could be to be together once again. And except for the few times when he went out to visit a friend of his (an American bear who lived with Harley), Gamle Nalle stayed close to Maria for the rest of her life.
Later, in the fullness of time, as Maria's final days approached, her "Old Bear" would watch over her, spending his time sitting quietly on top of the white dresser next to the bed where she slept: two old friends happy just to be together.

oh bear, old and beloved, 
fur rubbed away
               from kisses and kindness -
you are friend
waiting eager and soft.

oh red-donned 
and stitched with such meaning
and heart, watch over:
each ending, 
            each start.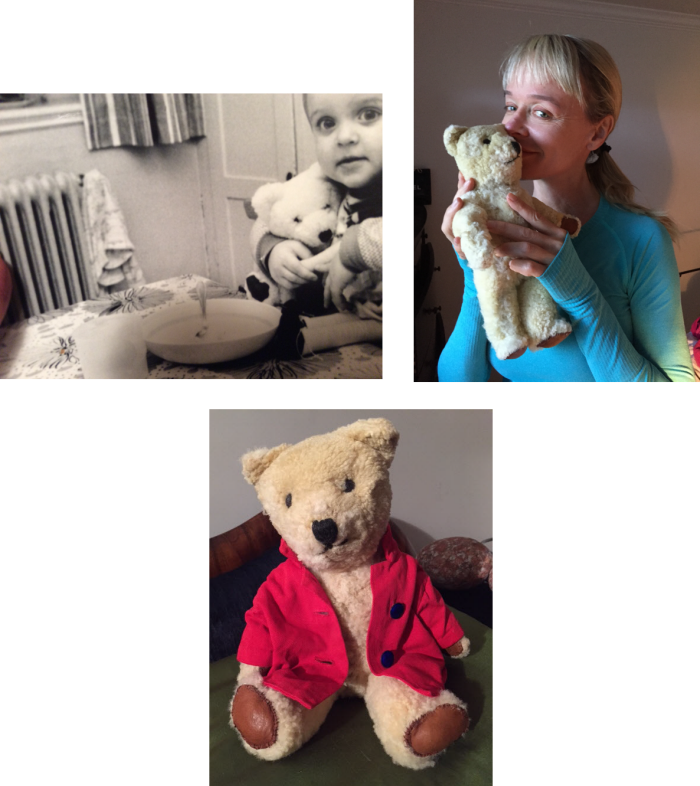 [top left] 1961.
Click the picture to display a larger image.
Maria (2 years old) with Gamle Nalle.
Stockholm, Sweden.
[top right] March 7, 2015.
Maria (55 years old) reunited with Gamle Nalle, after his restoration.
Santa Barbara.
[bottom] March 7, 2015.
Gamle Nalle, dressed in his best outfit.
Santa Barbara.

Jump to top of page
© All contents Copyright 2023, Harley Hahn
Full trademark and copyright information