On August 26, 2016, Maria was diagnosed with a serious terminal illness. She was 57 years old.
Within a week Maria had major surgery; after recuperating, she underwent two and half months of aggressive treatments followed by several more months of recovery. She suffered enormously but, in the end, she gained five extra years of life.
Three months after her final treatment, on June 1, 2017, Maria went back to work. This time, she planned for a more balanced life: limiting her work hours, taking breaks, eating enough during the day, and making sure she got plenty of sunshine and outdoor activity, all of which worked well for her.
Unfortunately, eight months later, on February 23, 2018, tests showed that her condition had returned, so she once again stopped working. Although she was, once again, treated successfully, she decided to retire permanently and enjoy such time as she had left.
Maria now found herself in a difficult situation. First, she was starting to get more symptoms from her long-term condition, an illness that would only get worse. At times, it seemed as if Maria's life consisted of one medical appointment or procedure after another, which was difficult and dispiriting.
Second, the medications she was taking to extend her life were working. However, they also caused significant side effects that Maria had to deal with on her own.
Finally, Maria never forgot that her time was limited; the end of her life was waiting for her and it wasn't that far away.
From the very beginning, all of this affected Maria's spirits, and there were times when she was so despondent that she wanted to give up. Nevertheless, she always managed to get through: sometimes with the help of others, and always through sheer grit.
To take care of herself, Maria called upon the determination and skills that had, by now, become part of her basic personality. Every morning, she would use fresh vegetables to create a healthy "green drink" for herself, part of the high-nutrient diet she maintained.
In addition, she designed a personal exercise plan for herself: hiking, walking, weight-training, regular stretching, yoga classes, and more. As time passed and her vitality waned, she would adapt her exercise accordingly. Even when she lost most of her mobility, Maria would still find a way to exercise: she would use a walker indoors to move up and down her hallway, over and over, to the best of her ability.
Finally, Maria kept detailed records of all her medications (times and doses), as well as notes from all her medical appointments and treatments. And, because good hydration was important in her condition, she would keep a daily record of her water intake to make sure she drank enough liquid every day.
At the same time, Maria was planning for the future. First, she made sure that her estate plan was up to date, including donations to animal welfare groups. She then went through years of letters and papers, throwing away most of them. She also looked through her possessions, including all the expensive, high-quality clothes and shoes she had bought over the years. She decided what should be done with everything and created labels, as well as detailed notes to be followed after her death.
In her last few years, there were some times of relatively good health. However, more and more, Maria was having significant medical problems. By the beginning of 2021, her health took a turn for the worse, and she encountered a long series of difficulties. On September 18, 2021, she made the decision to begin hospice care.
At first, she didn't do well and began to decline quickly. On November 4, however, she changed to a different hospice provider — Assisted Hospice Care in Santa Barbara — which made a huge difference. Her new social worker (Robert Valerio) and her new nurse (Marianne Wohler) were energetic and skillful, and they both moved quickly to help her.
Several months earlier, Maria had unilaterally created written instructions that she never again wanted to go again to the hospital or to a doctor's office; there would be no more imaging, no more tests, and no more uncomfortable treatments of dubious efficacy.
By the time Robert and Marianne took over Maria's treatment, however, she had declined so much that they decided to move her to a nearby hospice facility, Sarah House, so they could care for her more intensively. After three weeks at Sarah House, Maria had recovered enough to return home, which she did on November 30, 2021.

and even in the face 
of a long and dark hallway,
she made her own light,
her own plans. 
                  candle-wick
spirit, 
still moving and bright -
against odds,
against all too-soon ends.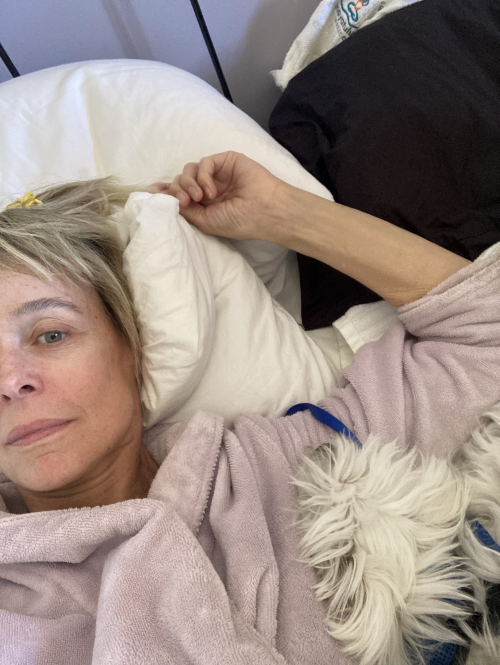 Jump to top of page
© All contents Copyright 2023, Harley Hahn
Full trademark and copyright information