Maria loved being in her own home and chose to live the rest of her life there. She was an independent woman who generally preferred to spend her free hours alone, with only her dog Axel for company. And yet, as she adapted to changing circumstances, she willingly chose to have other people stay with her and care for her. From the moment she returned home from the hospice facility, Maria was never alone: for 24 hours a day there was always a caregiver with her.
To the best of her ability, Maria never stopped taking care of herself: in fact, much of the time she was her own nurse. However, she soon came to accept and appreciate how much she needed the help of other people. She had two good friends who would shop for her; fix things around the house; bring her food; and take care of her dog. A nearby neighbor who was a talented chef cooked all of Maria's meals, which were delicious. And, of course, there were her caregivers — all of whom were women — who worked in 12-hour shifts to keep Maria company and to take care of her. In those long hours, she grew to enjoy getting to know each caregiver and, by the end, she had several new friends.
Maria also depended upon the loving care she received from her hospice team: her social worker, Robert Valerio; her nurse, Marianne Wohler; and home health aide, Raquel Perez.
It was Robert who was able to help Maria through her most difficult emotional times. Of course, one would expect a social worker to minister to his patient's psyche and emotional needs. Robert Valerio, however, also had a firm grasp of Maria's medical problems. From the beginning, he could anticipate how her condition would develop over time, which enabled him to create a long-term plan for her care.
Robert spent many hours talking with Maria: patiently gaining her confidence and drawing her out. In this way, he was able to bring wisdom to her, one tiny step at a time, with the ultimate goal of helping her overcome the demons that had plagued her throughout her life. Slowly and skillfully, Robert helped Maria understand her suffering from the inside. As a result, in only a few months, he guided her through a transformation: from a tortured, long-suffering individual, never at peace for a moment, into a relaxed, accepting spirit.
Was Maria scared? Very much so. But with Robert's help, she finally began to experience inner peace. In spite of the ups and downs, part of Maria never gave up. As her corporeal life began to fade, her higher self began to shine through, and she became more beautiful than ever.
In the very early morning of February 15, 2022, Maria Tanner fell asleep for the last time. A few hours later, at 8:30 am, with her lifelong companion Gamle Nalle (teddy bear) looking down at her from his home on her dresser, and her beloved Maltese dog Axel and his brother Manfred lying next to her on the bed, Maria took her last breath and rested in peace.

here at the close
grows an angel: peace-lending
creature, untying with love
every knot that guarded 
her heart.

unravel the hurt,
he does - yes,
then he weaves

something soft
for a final release.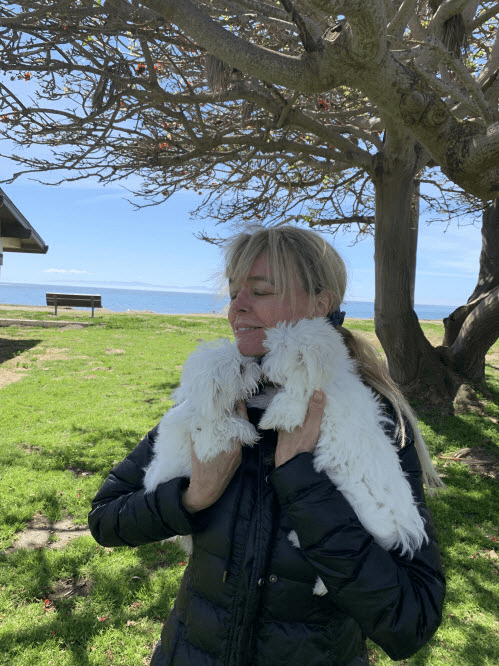 Jump to top of page
© All contents Copyright 2023, Harley Hahn
Full trademark and copyright information