Back in Sweden in the late 1960s, Maria was still a young girl. During the school year, Maria's life was, of course, occupied with daily classes and with studying. In addition, like many Swedish children, she spent much time outdoors all year round. During the winter (and winter lasts a long time in Northern Sweden), Maria spent hours skiing, both downhill and cross-country. She turned out to be a natural skier, a skill that she carried well into adulthood.
Nevertheless, in Maria's family, devoting her time to school, studying, and being active outdoors was not enough. At her mother's insistence, Maria also spent much of her childhood training in music (classical piano) and dance (ballet).
Maria's mother had a mercurial personality coupled with a worship of perfection, a combination that often made life difficult, especially for Maria, the oldest of the two children. As a result, Maria developed two defining traits, both of which endured for the rest of her life.
First, at a very early age, Maria learned to build a wall around herself to protect her from the effects of a mother who could be demanding and unpredictably harsh. As such, Maria quickly learned how to separate herself emotionally from painful situations. Later in life, she would develop social strategies to avoid conflict whenever possible.
Second, by spending so much time practicing the piano and attending ballet class, all the while being forced to aim for perfection, Maria learned how to work hard without complaining. This was to benefit her later: Maria was able to set ambitious goals and work relentlessly towards long-term gratification, without suffering either frustration or discouragement.
As an adult, both traits were evident and were sometimes combined purposely. For example, Maria tended to keep other people at a distance, doing so in a non-confrontational way such that many of her acquaintances came to like her very much, often wanting to be her friend (and with men, her boyfriend). Moreover, regardless of her current life situation — which varied significantly over the years — Maria was able to survive difficult circumstances by taking the time to form a carefully thought-out long-range plan, which she would then patiently carry out, one step at a time, over months and even years.
For example, in her early 40s Maria found herself alone in Santa Barbara without an adequate source of income and without meaningful work, so she entered nursing school with the long-term goal of developing her skills and marketability in the area of beauty.
At the unusually old age of 42, Maria graduated from Santa Barbara City College as a registered nurse. However, instead of working as a regular nurse, Maria spent several more years training as an esthetician and learning how to perform complicated cosmetic procedures. Eventually, she was able to join the practice of the eminent cosmetic surgeon, Gregory Keller M.D., where she remained for the rest of her working life, becoming, arguably, the best non-surgical cosmetic practitioner in the Santa Barbara area
But what about Maria's childhood talents: her early ability to write poetry and stage her owns plays, and her impressive music and dance skills?
By the time Maria reached high school, she had already stopped being creative simply to please other people. As a teenager, Maria left her home Sweden to spend a year in the U.S. as an exchange student and, from that day forward, she would never again play the piano or dance. For the rest of her life, she would, to be sure, create out of pure joy, but only for herself. Never again would she share.
Regardless, Maria's talents seemed boundless. She had superb control over her voice and her body movements (she could have been an accomplished actress); she would use color pens to create abstract drawings with a startling 3D quality; she spent many hours taking excellent photographs, for which she had an unusually rare talent; and she was a gifted writer who, for decades, kept diaries describing her life, her relationships, her education, and her work.
With respect to music, Maria developed a sophisticated appreciation of every type of music she could find, ranging from classical and opera to jazz and rap. And yet, as talented as the adult Maria was, honing her creative skills masterfully in a wide variety of ways, it was always only for herself, never again to show other people.

even if not shared, in her hands,
there was music - piano-dance,
gorgeous movement, line of poetry,
(yes) 
     secret thing for the small sake
of pleasing. a gift kept 
close to the chest

is a precious thing
                   nevertheless.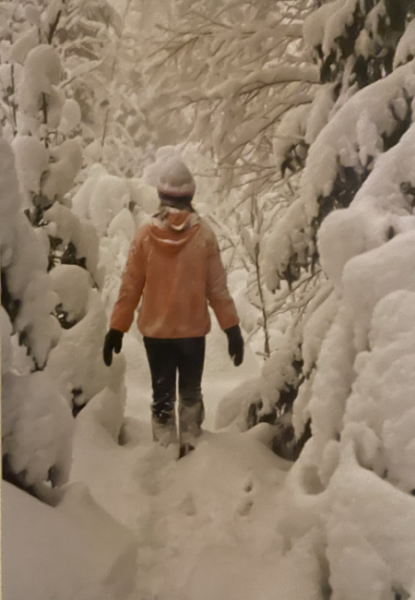 Jump to top of page
© All contents Copyright 2023, Harley Hahn
Full trademark and copyright information