On June 23, 1995, Maria found herself on a plane, traveling from Virginia back to Santa Barbara with only a single suitcase and a small amount of money. After two years of hoping and planning, she was finally breaking away from an 11-year failed marriage that had become abusive.
When the plane arrived in Santa Barbara, Maria was met by her friend Michael Rottapel. In need of money, she began to work for Michael's business and continued to do so, off and on, for eight years, all the while preparing for a more secure, rewarding future.
In the end of the summer of 1995, at the age of 36, Maria registered at Santa Barbara City College (SBCC) to take the classes she hoped would, one day, enable her to go to nursing school. However, because of her financial situation she still needed to work at her full‑time job, so she could take only one class at a time.
Nevertheless, by the fall of 1998, Maria had fulfilled all the prerequisites and was accepted into the SBCC nursing program as a full‑time student. After three years of hard work at SBCC, during which she also managed to work at a part‑time job, Maria finished at the top of her class. On June 1, 2001, at the age of 42 she graduated from SBCC with an Associate Degree in Nursing (ADN). Two months later, she received the interim permit that enabled her to train as a nurse.
Eight months after than, on April 4, 2002, Maria Elisabeth Tanner officially became a Registered Nurse (R.N.) in the State of California.
---
In becoming an R.N., Maria did not follow in the footsteps of her mother, who was also a nurse: Maria's plans were much different. Although she did have to work in a hospital during her training, it was never Maria's intention to actually practice nursing for a living. The nursing degree was simply the first big step in her new career: to become an expert in advanced cosmetic procedures.
Four months after receiving her official R.N. credential, Maria enrolled in the SBCC Cosmetology Academy. A year later, on September 13, 2004, at the age of 45, she graduated and became a Licensed Esthetician in the State of California. In the same year, she was also certified as a Laser Safety Officer by the Laser Institute of America (lasers often being used for cosmetic procedures).
Thus, by the fall of 2004, Maria Tanner was a Registered Nurse, a Licensed Esthetician, and a certified Laser Safety Officer. She was now ready to begin her new career.
---
In 2003, Maria had began to work at Spa Medicus in Santa Barbara. It was there that she met the cosmetic surgeon Dr. Gregory Keller. Like Maria, Gregory Keller practiced what is now called Aesthetic Medicine. However, where Maria was an R.N. specializing in non-surgical cosmetic procedures, Dr. Keller was an M.D., a board‑certified facial plastic surgeon.
Within a few years, Dr. Keller started his own business with his wife Pamela Keller, also an R.N., running the office. Maria left Spa Medicus and, on June 29, 2009, she began to work full-time with the Kellers. Although Maria (the nurse) and Dr. Keller (the surgeon) performed different procedures and had their own patients, they worked well together and often consulted with one another.
Maria was very good at what she did for several reasons. First, she had extraordinary hand‑eye coordination coupled with a great deal of patience. As such, she had a gentle touch that yielded excellent results. (How many people would you trust to inject something into your eyelids?)
Second, much of the Aesthetic Medicine industry was (and still is) oriented towards selling as many services as possible. It is a cash business (insurance generally doesn't pay) and, all too often, the goal is to make as much money as possible as quickly as possible. As a result, many people receive treatments that don't work well for them or that they don't really need.
It was Maria's experience that, when cosmetic procedures are chosen carefully and performed well, many people (both men and women) find that, once they look better, they feel better about themselves. So she would begin by taking the time to study each new patient carefully. She was always truthful about what would work and what wouldn't work for that person, and she would recommend only those procedures she knew were in the best interest of her patient. In this way, Maria's patients came to trust her judgment and her honesty and, over time, she built a large, successful — and lucrative — practice.
This was, by far, the most satisfying, meaningful work Maria had ever done, and she remained with the Kellers for the rest of her working life.

steady-handed and sharp-minded
she 
   did only the necessary,

knowing (as she did)
with such intimate closeness:

the most priceless resource 
is trust.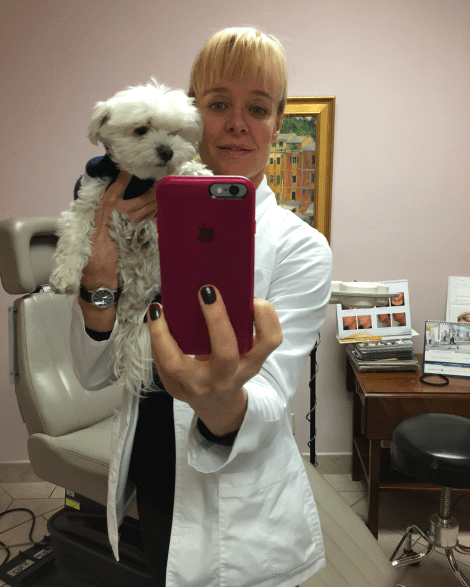 Jump to top of page
© All contents Copyright 2023, Harley Hahn
Full trademark and copyright information