There are two important concepts I want to emphasize about this model. First, as we discussed, the details of what is happening at any particular level are completely independent of any other level. Second, the only communication that exists takes place between adjacent levels, using a well-defined interface.
For example, the window manager communicates only with X Window below and the display environment above. This is adequate because the window manager doesn't care about the details of anything that is happening on any other level. It lives only to respond to requests from the level above (the desktop environment) and, in turn, it calls upon the level below (X Window) to service its own requests.

Jump to top of page
How the Unix Companies Blew It
When X Window was first developed, there were only window managers which, by today's standards, offered primitive GUIs. The idea that people might want a full-featured desktop environment developed over time, as programmers learned more about designing and implementing interfaces. Although there is no exact moment when window managers were replaced by desktop environments, here is more or less how it happened.
By 1990, the world of Unix was fragmented because there were a number of different Unix companies, each with its own type of Unix. In spite of promises to cooperate, there was a great deal of competitive sniping, and most companies were much more interested in dominating the marketplace than in working together. In the same way that young boys who fight in the playground will choose up sides, the Unix companies formed two umbrella organizations, each of which purported to be developing the one true Unix.
As we discussed in Chapter 2, by the mid-1980s, most types of Unix were based either on AT&T's UNIX or Berkeley's BSD or both. In October 1987, AT&T and Sun Microsystems announced their intention to work together on unifying UNIX and BSD once and for all. This upset the other Unix vendors and in May 1988, eight of them formed the OPEN SOFTWARE FOUNDATION (OSF) in order to develop their own "standard" Unix. The eight vendors included three of the most important Unix companies: DEC, IBM, and HP (Hewlett-Packard).
The formation of the OSF scared AT&T and Sun. They decided that, if they were to compete against OSF, they too needed their own organization. So in December 1989, they corralled a few smaller companies and formed UNIX INTERNATIONAL (UI).
Thus, by the early 1990s, there were two rival organizations, each of which was trying to create what it hoped would become the one true Unix. As part of their work, both OSF and UI developed their own window managers. OSF's was called mwm (Motif window manager), and UI's was called olwm (Open Look window manager). This meant that X Window users now had three popular choices for their window managers: mwm, olwm, and twm (which I mentioned earlier).
However, where twm was a plain vanilla window manager, both mwm and olwm were more complex and powerful. In fact, they were the ancestors of today's sophisticated desktop environments.
So, why aren't Motif and Open Look the most important GUIs today? The answer is that their sponsors, OSF and UI, spent so much time fighting that they lost their leadership in the Unix world. The details are incredibly boring, so I won't go into them(*). What is important is that, by the mid-1990s, there was a big gap in the world of Unix, a gap that was filled by Microsoft Windows NT and Linux. And along with Linux came two new GUIs, KDE and Gnome, which had nothing to do with either OSF or UI.

Jump to top of page
In 1996, Matthias Ettrich, a German student at the University of Tübingen, was dissatisfied with the current state of Unix GUIs. On October 14, 1996, he sent out a Usenet posting in which he proposed to remedy the problem by starting a new project called the Kool Desktop Environment (KDE). (See Figure 5-2.)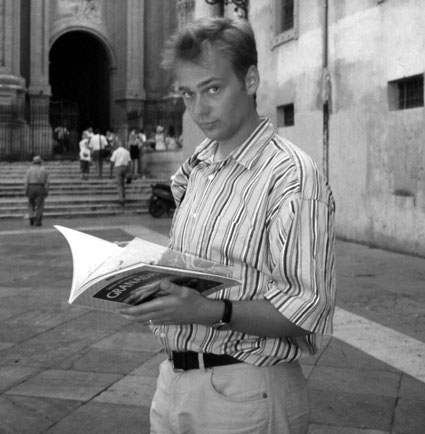 Figure 5-2: Matthias Ettrich, founder of the KDE project
Ettrich argued that the current window managers were deficient, that "a GUI should offer a complete, graphical environment. It should allow a user to do his everyday tasks with it, like starting applications, reading mail, configuring his desktop, editing some files, deleting some files, looking at some pictures, etc. All parts must fit together and work together."
Ettrich had noticed these deficiencies when he was configuring a Linux system for his girlfriend. He realized that, in spite of all his expertise, there was no way for him to put together a GUI that was integrated well and was easy for his girlfriend to use. He asked people to volunteer to work on KDE, promising that "one of the major goals is to provide a modern and common look & feel for all the applications." (*)
More specifically, Ettrich asked people to help create a control panel (with "nice" icons), a file manager, an email client, an easy-to-use text editor, a terminal program, an image viewer, a hypertext help system, system tools, games, documentation, and "lots of other small tools". Ettrich's invitation was answered by a variety of programmers, and the KDE project was formed.
One of Ettrich's major complaints was that none of the popular Unix applications worked alike or looked alike. The KDE programmers worked hard and, by early 1997, they were releasing large, important applications that worked together within an integrated desktop environment. In doing so, they produced a new, highly functional GUI that began to attract a great deal of interest.
Within a few months, however, a number of programmers within the Linux community began to voice concerns about KDE. Ettrich had chosen to build the new desktop environment using a programming toolkit called Qt. Qt had been written by a Norwegian company, Trolltech, which had licensed it in such a way that it was free for personal use, but not for commercial use.
To the KDE programmers, this was fine: from the beginning, they saw KDE as a non-commercial product. Other people, however, felt that Trolltech's licensing arrangement was not "free" enough. In particular, the programmers who were associated with the GNU project and the Free Software Foundation wanted a less restrictive license for KDE, either that, or an alternative to KDE that would be licensed under the GNU GPL. (See the discussion of free software in Chapter 2.)
In August 1997, two programmers, Miguel de Icaza and Federico Mena, started a project to create just such an alternative, which they called GNOME. Although KDE was already well-established, the Gnome project attracted a lot of attention and, within a year, there were about 200 programmers working on Gnome.
(You may remember that, earlier in the chapter, I mentioned two window managers, Metacity and kwm. At the time, I said that, out of the many window managers that are available, these two are important enough that I wanted you to know the names. The reason they are important is that Metacity is the window manager for Gnome, and kwm is the window manager for KDE.)
What's in a Name?
KDE, Gnome
---
The project to build KDE, the first X-based desktop environment, was started by a German university student, Matthias Ettrich. At the time Ettrich proposed the project, he suggested the name KDE, which would stand for Kool Desktop Environment. Later, however, this was changed to K Desktop Environment.
In the same way that X Window became X, the letter K is often used to stand for the KDE desktop environment. For example, within KDE, the native Web browser is called Konqueror; the CD ripper is KAudioCreator; the calculator program is called KCalc; and so on. In perhaps the most egregious use of the letter K, the KDE terminal emulator is called Konsole.
Within Gnome — and the GNU project in general — you see the same thing with the letter G. For example, the Photoshop-like program is called Gimp (GNU Image Manipulation Program); the instant messaging program is Gaim; and the calculator program is Gcalctool; and so on.
The name Gnome stands for GNU Network Object Model Environment. "Gnome" is pronounced either "Guh-nome" or "Nome". In my experience, programming geeks pronounce GNU with a hard G ("Guh-new") and Gnome with a soft G ("Nome").

Jump to top of page
CDE and Total Cost of Ownership
By 1999, there were two popular, well-designed desktop environments: KDE and Gnome. Both GUIs enjoyed widespread support within the Linux community (and, to this day, they are used widely around the world).
In the meantime, the commercial Unix companies were still in business and, by now, they realized the importance of desktop environments. The Open Group organization I mentioned earlier had taken over development of the Motif window manager. In the early 1990s, they had started work on a new proprietary desktop environment — CDE (Common Desktop Environment) — based on Motif. After a large, multi-company effort, CDE was introduced in 1995. By 20, CDE had become the GUI of choice for commercial Unix systems, such as AIX from IBM, HP/UX from HP, Unix from Novell, and Solaris from Sun.
You may wonder why there was a need for CDE? Why would so many computer companies pay to develop a proprietary product when both KDE and Gnome were available at no cost? On a larger scale, why was there a need for commercial Unix at all? After all, Linux was available for free and the licensing terms were liberal. Why didn't every company simply switch to Linux and use either KDE or Gnome?
The answer has to do with one of the fundamental differences between the commercial and consumer markets, and the principle is so important that I want to take a moment to explain it.
As consumers, you and I want two things out of our software. First, it should be inexpensive (free, if possible); second, it should work. We realize that when we have problems, we are on our own. We can read the documentation, we can look for help on the Internet, or we can ask someone else for help. If we get desperate we can pay someone to help us but, in most cases, there is no great urgency. If we have to wait for a solution, it is inconvenient but not devastating.
In a company, especially a large company, the situation is different. Even a simple software problem can affect hundreds or thousands of people. Waiting for a solution can be very expensive, both to the company and to its customers. Because large companies can't afford serious problems, they employ full-time computer personnel to maintain networks, servers, and personal computers. For this reason, when companies evaluate a product — software or hardware — they don't focus on initial cost. They look at what is called the TOTAL COST OF OWNERSHIP or TCO.
To calculate the total cost of ownership, a company must answer the question: If we decide to use this product, what is it going to cost us in the long run?
Calculating the TCO for something as complex and as fundamental as a desktop environment is not simple. For you or me, the initial cost is the only cost. If we can get KDE or Gnome for free, that's all we care about. Software problems can be bothersome but, as I said, it's more a matter of inconvenience than money.
A large company looks at it differently. Although they do evaluate the initial purchase cost or licensing fees, they also perform a more complicated, long-term analysis. The details of such calculation are beyond the scope of this book, but the ideas are important to understand, so I will give you a quick summary.
Before a company adopts a significant hardware or software system, their financial analysts look at what are called direct costs and indirect costs. The direct costs include both hardware and software: initial purchase or lease expenses, operations, tech support, and administration. The indirect costs have to do with lost productivity. They include the amount of time employees spend learning how to use the system; the amount of time some employees will lose because they are helping other employees (something that happens everywhere); and the cost of downtime due to failure and scheduled maintenance.
Once all these costs are estimated, they are converted to annual expenditures, a calculation that includes the depreciation and the cost of upgrades. The annual expenditures are then integrated into the company-wide budget, which is reconciled with the company's plan for long-term growth.
In most cases, when total cost of ownership for software or hardware is calculated, what we find is counter-intuitive: the initial costs are not that significant. In the long run, what counts the most are the ongoing expenditures and indirect costs.
Thus, when a company is thinking about adopting new software, they don't ask how much it costs to buy or license the product. They ask, how well will this software integrate into our existing environment? How does it fit into our long-term plans? How well does it serve our customers? How much will it cost to maintain on an ongoing basis?
Once these questions are answered, it becomes clear that, for corporate use, the best software is usually not free software that has been designed for individual or educational use. Business software must have features that are suitable for business. There must be a large family of well-maintained programming tools; there must be a well-defined, long-term development plan tailored to the needs of businesses, not individuals; most important, there must be excellent documentation and high-quality tech support. This is why most large businesses prefer to stick to commercial software. It is also why, in the corporate world, Linux has not replaced Microsoft Windows and probably never will.
This is not to say that large companies never use free software. They do when it makes sense to do so. For example, IBM offers not only their own version of Unix (AIX), but Linux as well. However, when a company like IBM offers an open source ("free") software product, they put a lot of money into it, supporting and enhancing that product. IBM, for example, has spent millions of dollars on Linux development and support. The truth is, for a large company, nothing is free.
To return to the desktop, you can see why, in the 1990s, it was so important for the corporate world to have its own desktop environment. Although both KDE and Gnome worked well, they didn't have the type of features and support that were needed by businesses.
That is why the Open Group was set up and why they developed CDE. And that is also why, at the end of the 1990s, CDE — not KDE or Gnome — was the desktop environment of choice for corporate users.
In the 20s, as free software became more and more important, Unix companies started to offer their own versions of Linux as well as their own proprietary Unix. For example, IBM offers both AIX and Linux; Sun offers both Solaris and Linux; HP offers both HP-UX and Linux; and so on.
As you might expect, this also means that Unix companies also offer KDE and Gnome. For example, IBM offers their AIX users a choice of CDE, KDE and Gnome; Sun offers both CDE and Gnome; and HP offers both CDE and Gnome.
Of course, these versions of Linux, KDE and Gnome are not the same distributions that you or I would download for free from the Net with no support. They are commerical-quality products that come with commerical-quality tech support (at a price).

Jump to top of page
Choosing a Desktop Environment
When you use Unix, you get a strong feeling that the desktop environment is separate from the actual operating system. This is not the case with Windows or Mac OS, because Microsoft and Apple try hard to convince people that every important program that comes with the computer (including the browser, the file manager and the media player) is part of the operating system.
The truth is it isn't: it's just packaged that way. Because you are a Unix user, you can make the distinction between the operating system and everything else, which leaves you free to ask yourself, "What do I want on my desktop?"
Many companies and schools standardize on computer tools. If you work for one of these companies or go to one of these schools, you will have to use whichever desktop environment they tell you to use. However, if you are running Linux on your own computer — or if your organization gives you a choice — you will be able to decide for yourself what GUI to use.
So which desktop environment is best for you?
If you use Linux, there are many free desktop environments, so you have a lot of choice. (To see what I mean, just search on the Internet for "desktop environment".) However, virtually all Linux distributions come with either KDE or Gnome or both, and it is my advice that — unless you have a reason to choose otherwise — you start with one of these two GUIs. (See Figures 5-3 and 5-4. When you look at these pictures, please focus on the appearance and organization of the GUI — the windows, the icons, the toolbar, and so on — rather than on the content within the windows.)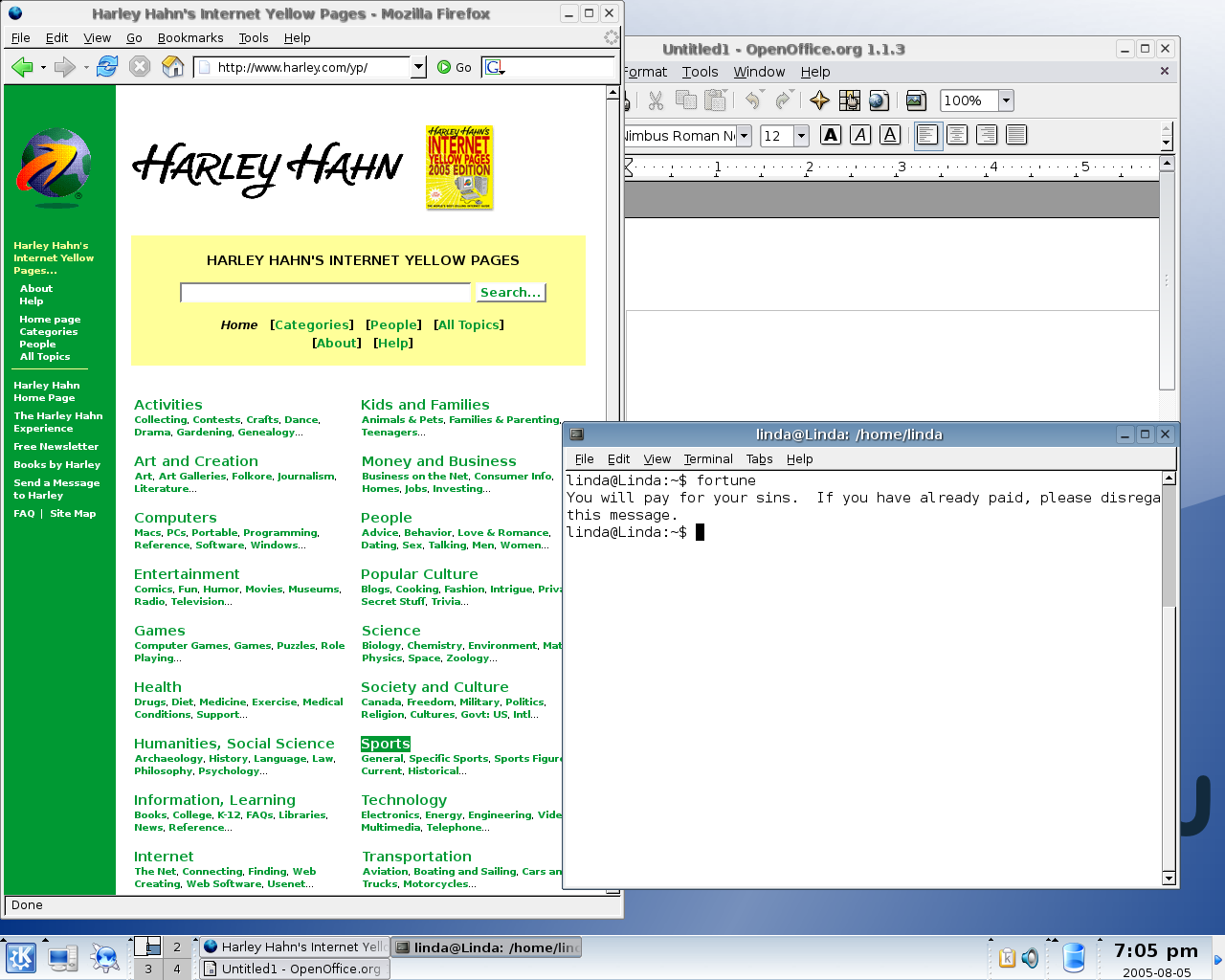 Figure 5-3: KDE desktop environment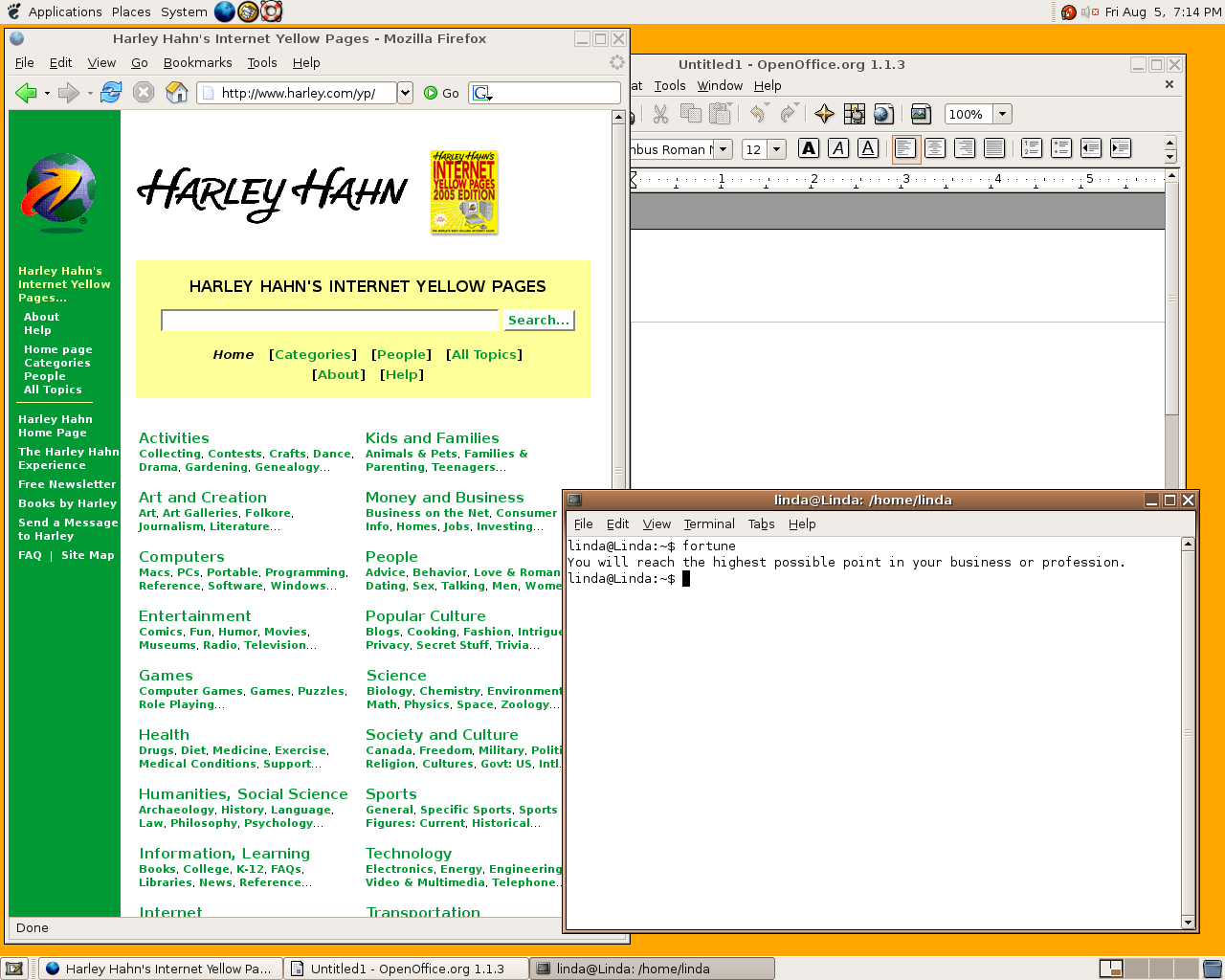 Figure 5-4: Gnome desktop environment
So let's narrow down the question: With respect to KDE and Gnome, which one is right for a person like you?
To start, take a look at the following five statements. Mark each statement either True or False, with respect to your personal preferences. We will then evaluate your answers to choose the desktop environment that's best for you.
1. I would rather drive a car with manual transmission than a car with automatic transmission.
2. I am more comfortable in a home that is simple and organized than a home that is decorated and has comfortable clutter.
3. When I have a personal discussion with my girlfriend/boyfriend or wife/husband, it is important to me that we take the time to figure out who is right.
4. After I bought my DVD player, I read at least part of the manual.
5. When I use Microsoft Windows or a Macintosh, I generally leave things the way they are. I don't mess around with the colors, the backgrounds, and so on.
Before we interpret your answers, I want you to appreciate that all desktop environments are merely a way of using the same underlying computing environment. So no matter which desktop environment you pick, it will be fine. Having said that, you will be more comfortable using a desktop environment that is suited to your personality, so let's move on with the analysis.
Regardless of your technical skill or your interest in computers, if you answered True 3, 4 or 5 times, use Gnome; if you answered True 0, 1 or 2 times, use KDE.
Notice that I said that your choice should not depend on how much you know about computers. Some very technical people prefer KDE; others prefer Gnome. Similarly, many non-technical people choose KDE, while others like Gnome.
The dichotomy has more to do with how you see the world, rather than how much you know. Gnome people thrive on simplicity and order. They want things to be logical. If necessary, they are willing to put in as much effort as it takes to make something work in a way that makes sense to them.
A Gnome person would agree with the dictum "form ever follows function", an idea expressed by the American architect Louis Sullivan in 1896. Sullivan observed that the appearance of natural objects was influenced by their function. Gnome people want the world to behave in a rational way, and they prefer tools whose appearance directly reflects their purpose.
Whereas Gnome people like to control how things work, KDE people like to control how things look. This is because they care less about "being right" than they do about living in a way that makes them emotionally comfortable.
KDE people see the world as a place filled with color, variation and, at times, confusion. They are inclined to accept much of life as it is, rather than putting in a lot of effort to fix small details. When they feel motivated to spend time customizing their working environment, they tend to makes things that look nice and act nice.
Now, take another look at your answers to the true/false questions. Are you a KDE person or a Gnome person?
A question arises. We have two different desktop environments, each of which was created by its own group of people from around the world, working together. How could it be that there are personality traits that differentiate KDE people from Gnome people?
The answer lies in the genesis of each group. As we discussed earlier, the KDE group was started by people who were not satisfied with the status quo. They wanted to create a complete working environment that worked better and looked better than the window managers of the day.
The Gnome group was started by people who were dissatisfied with KDE because of an abstract legal problem related to licensing terms, a deficiency that — let's face it — most people would have ignored (as all the KDE people did). However, to a Gnome person — or, more precisely, to a Free Software Foundation-type of person — what's right is right and what isn't isn't, and that's all there is to it. (See the discussion of Richard Stallman in Chapter 2.)
Does it not make sense, then, that each group would create a desktop environment suitable for their type of person? Perhaps people who design consumer products (including software) should pay more attention to the KDE/Gnome dichotomy.

Jump to top of page
Now that we have discussed the most important GUIs and the most important types of Linux (Chapter 2), I want to end this chapter by answering a question I hear a lot:
"I am putting together a system using free software for someone who doesn't know a lot about computers. What software should I use?"
I call such a computer the Grandmother Machine, because it is the type of system you might create for your grandmother.
When you set up a Grandmother Machine, you must realize that you will bear permanent responsibility because, whenever your grandmother has a problem, she will call you. So you should use software that is dependable, easy to install, and easy to update. You also want a system that you can configure to make it easy for a beginner to access the Web, check email, and (in some cases) use word processing, spreadsheets, presentation graphics, and so on.
Here are my recommendations. When you read them, remember that conditions change over time. New software comes along and old software grows to become bloated and unusable. So concentrate on the general principles behind my choices, and not just the specific selections.
To create a Grandmother Machine, use the following:
• Ubuntu Linux: It's based on Debian Linux and is easy to install and maintain.
• Gnome: The Gnome desktop environment is simple to use, but robust enough that a beginner won't mess it up.
If the grandmother in question is a very KDE-like person, you can give her KDE. However, please stick with either Gnome or KDE. Regardless of your personal preferences, don't mess around with the less common desktop environments.
When you set up the GUI, be sure to take some time to make it as easy as possible for your grandmother to start her favorite applications. The best idea is to create a few icons on the control panel. (At the same time, you can remove the icons she will never use.)
• Firefox: The Firefox browser is easy to use and powerful. For email, get her a Web-based account (such as Google's Gmail) and let her use her browser to communicate.
Firefox is wonderful, but do plan on taking some time to show your grandmother how to use it. In addition, plan on answering questions over the phone until she gets used to using the Web. (The best way to avoid unnecessary questions is to create a link to Google, and to show your grandmother how to use it. When you do, be sure to take a few moments to explain how to make sense out of the search results.)
• Open Office: A suite of free productivity software (word processor, a spreadsheet program, and so on), compatible with Microsoft Office.
One last piece of advice: I have a lot of experience helping people choose computer systems, and there is a general principle I have noticed that rarely gets mentioned.
When you choose a computer for someone, it doesn't work well to base your advice on what I might call their "hardware needs". What works best is to choose a system based on their psychological needs. This idea is so important that I will embody it in the form of a hint.
— hint —
Harley Hahn's Rules for Helping Someone Choose a Computer
1. When you are choosing a computer for someone to use as their personal machine, choose a system that meets their psychological and emotional needs.
In most cases, the person will not be able to articulate their needs, so you must figure them out for yourself. During this process, do not allow yourself to be sidetracked into long discussions of hardware specifications or other trivia.
2. When you choose a computer for someone who is working for a company, choose a system that is in harmony with the psychology of the person who will be approving the expenditure.
Within a corporate environment, people come and go, so don't choose a system based on the needs of a particular user. Choose a system that suits the company.
The best way to do this is to look for a computer that meets the psychological and emotional needs of the person writing the check, not the person who will be using the machine. This is especially true when you are dealing with a small business.

Jump to top of page
---
Continue to Chapter 6
The Unix Work Environment
---
When it comes to displaying information, there are, broadly speaking, two types of data. What are they?
What is the name of the system that supports most Unix graphical user interfaces (GUIs)? Where and when was it first developed? Name three important services it provides.
What are layers of abstraction? Name the six layers in a typical Unix GUI environment.
What is "total cost of ownership"?
Who uses the concept and why?
When total cost of ownership of a computing system is calculated, how important are the initial costs?
What is a desktop environment?
In the Linux world, what are the two most popular desktop environments?
As a general rule, when using a GUI, windows are rectangular. Why is this?
When might it make sense to use a round window?
You work for a large company that uses PCs running Windows. The company has standardized on Microsoft Office products (Word, Excel, PowerPoint, and so on). You are at a meeting where a young, newly graduated programmer proposes that the company change from Office to the free software alternative, Open Office. Why is this a bad idea?
Does it bother you to recommend that the company stick with Microsoft products? If so, why?

Jump to top of page
---
Display the Answers to the Exercises Above
Jump to Chapter 6
The Unix Work Environment
List of Chapters + Appendixes
Table of Contents
---
© All contents Copyright 2023, Harley Hahn
Full trademark and copyright information